Covid-19 Alert Level 3 Step 2 Restrict Update Friday 19 November 2021
Kia ora koutou whanau
Firstly, thank you all so much for your support and understanding as we negotiate our way back into kura, with the health and safety of all being paramount.
Manurewa East School will open on Wednesday 24 November 2021 for those whanau who made contact with their teacher and advised their intention for their tamariki to return to kura.
Whanau bubble classrooms have been formed and teachers will be in direct contact with Parents/Caregivers to advise start and finish times for tamariki.  These times must be strictly adhered to, this ensures we keep bubbles separated and everyone as safe as possible.
Please note Children cannot just turn up on the day, bubbles have been formed and staggered entry and exit times are in place to ensure the utmost safety for all.  Prior contact must be made directly with the teacher, so that we can ensure we have sufficient staff and resources to accommodate the needs.
There are no visitors onsite and physical distancing of 2 metres must be adhered to outside the school grounds at all times.  Adults and those people over the age of 12 must wear face masks covering their nose and mouth when dropping off and collecting tamariki.
We can't wait to see everyone on Wednesday…
Until then, take care and keep staying safe.
Ngā mihi
Mary Takatainga
Tumuaki
Covid-19 Alert Level 3 Step 2 Restrict Update 14 November 2021
                                                                                                               Kia ora koutou whanau
Manurewa East School will not open on Wednesday 17 November 2021 for tamariki. We will continue to provide distance learning. 
At present, we are working with the Ministry of Education to meet the Covid-19 Public Health Response Act 2020 requirements to be 'safe to open'.  This ensures we are able to keep everyone as safe as possible to the very best of our ability.
Our teachers are in contact to collect information on your intentions for your tamariki for the rest of this term. If you have not been contacted, please share this information directly with your classroom teacher.  
This is vital for us to determine the maximum number of people possible onsite.
We will keep you informed as we progress.
Stay well and stay safe. 
Ngā mihi

Whanau Learning Packs
Kia ora koutou Whanau
We hope you are all well and staying safe in your bubbles.
We are sending out 'whanau learning packs' tomorrow  –  Saturday 6 November.
Please make sure someone accepts the parcel contactlessly from the courier.
Take care whanau, keep being kind.
Mary Takatainga
Tumuaki
Greenmeadows Intermediate School Information Evening for 2022 Enrolments
Greenmeadows Intermediate School Facebook page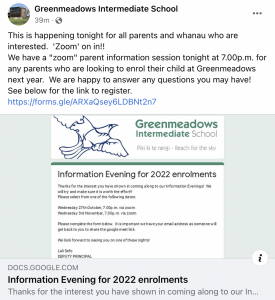 Covid-19- Alert Level 3  Update Friday 15 October 2021
Kia ora koutou whanau
We have been advised by Minister Chris Hipkins as follows:
-Auckland remains at Alert Level 3 Step 1. This will be reviewed on 18 October 2021.
-Schools will not reopen for Term 4 on 18 October 2021. Instead distance learning will be provided.
Our teachers are excited to re-connect and will be in contact on Monday about what it will look like at Manurewa East School as we begin Term 4 in distance learning.
We will continue to keep you updated as we progress.
Stay safe, take care and keep being kind, you are all amazing.
Mary Takatainga
Tumuaki
Kia ora koutou whanau
Links for Learning from the Ministry of Education 
Distance Learning: Alert Level 4
Curriculum teaching and learning resources (with guidance for parents) can be found online
Home Learning TV can be
accessed on demand here or via the TVNZ App on a device (mobile phone, smart tv or tablet)
Mauri Reo, Mauri Ora can be accessed on demand from Māori TV for
Information hub for Pasifika parents and families
Kia orana, Noa'ia, Talofa lava, Mauri, Mālō e lelei, Tālofa, Ni Sa Bula Vinaka, Fakaalofa lahi atua and Mālō ni, we've created an online info hub for Pasifika parents, families and communities to support learning during Alert Level 4. You can find the information hub here.
                                                 There are helpful updates on how COVID-19 impacts education and links to learning resources including:
Quick and easy: Home Learning TV
Alert Level 4 friendly: Learning from Home online
Pacific specific: Dual-language resources
We'd encourage you to check the info hub page regularly – we'll be updating it daily.
Stay safe and keep being kind
Mary Takatainga
Tumuaki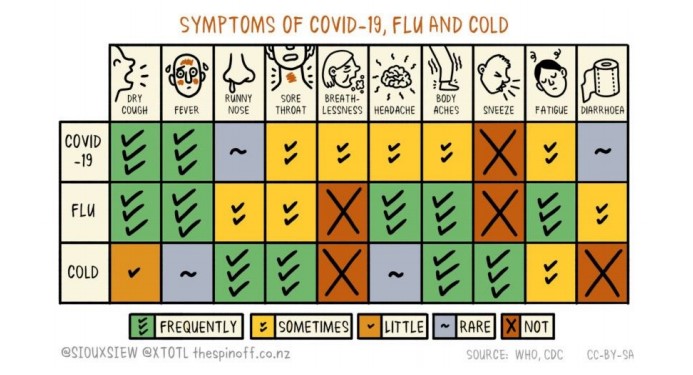 Kia ora koutou Manurewa East School Whanau
We pride ourselves as belonging to a vibrant place of learning where we are all learners together. Children who attend our school are expected to develop academically, socially and physically; always seeking ways to determine their own learning.
Our students are given extensive opportunities to participate in sporting and cultural events. Currently we have two Maori bilingual classes.
Our school provides the best quality teaching by dedicated professional staff, who are given ongoing professional development, to ensure they have the best support in their roles as teachers, as possible.
Teachers are expected to care for the children at this school as if they were their own. This means not only will they teach the New Zealand Curriculum in core areas such as reading, writing and maths but they will endeavour to support their learning in whatever area it takes to help build them into life long learners who will make positive contributions to our society.
Our students will be encouraged to dream big dreams and work hard to achieve them.